Snowfall Tree Recipe
Christmas Tree Decorating Inspiration: Snowfall Tree

Posted by Fortunoff Backyard Store
Make your white Christmas a reality.
Snow is a magical phenomenon. It falls with such wistful grace and creates otherwordly landscapes out of our everyday lives. Whether it's a frozen lake or a snow-covered forest, there's something breathtaking about the winter season. Our Christmas tree designers and holiday buyers tried to capture this awe-inspiring element with our Snowfall Christmas Tree design. With its cool whites and rich blues, the Snowfall tree is a holiday dream made warmer when surrounded by friends and family.
Although some items are available online, every product we use to create our Snowfall tree design can be found in a Winter Wonderland Showroom near you. These locations can be found in the following states:
Now that you know where to shop, let's get into what makes our Snowfall Christmas tree decoration style a magical addition to any home.
Winter can be a brutal season, but that brutality isn't present in our Snowfall tree design. Soft, glittering shapes and deep colors are the core of this tree. It's flocked needles drive home the snowy atmosphere our designers had in mind as beautiful snowflake and dreamy shades of blue ornaments contrast against the darker shades. It creates a modern style that mimics the dichotomy of stark blacks and whites without feeling too oppressive.
Hues Who:
Blue is the most eye-catching color in this tree design, but that's only because it was built upon a white palette. The flocked branches are not meant to be ignored. Although, they take backseat to the darker shades, shades of white work overtime in this design. The silvers featured in our Snowfall tree work as close sisters to the flocked needles and glittering accents found on the ornaments. They create the sparkle that real snow posesses, and the tree's cool white LED lights only enhance that shimmer.
The shades of blue present in our Snowfall tree demand to be the main characters, and they excel at their job. From the misty blue to the midnight navy shades present, the blues on this tree create the depth and visual appeal of fresh snow in a dark forest. They are moody and elegant.
What Stands Out:
Our Snowfall tree design stays within its winter theme masterfully. The glittering ribbon in light and dark shades stays within a cool color family while snowflakes and frosted branches bring the magic of winter to life.
The combination of these two elements creates an frozen-lake-inspired look. There is grace in these dark colors and familiar shapes. The snowflakes ground the design, which allows the ribbon and supplemental ornaments to experiment with glittering patterns and bold textures. A bejeweled ribbon garland would seem out of place in this modern-style design, but nestled among the other elements of this tree, it feels right at home.
DID YOU KNOW:
Every snowflake is unique. They're just like fingerprints.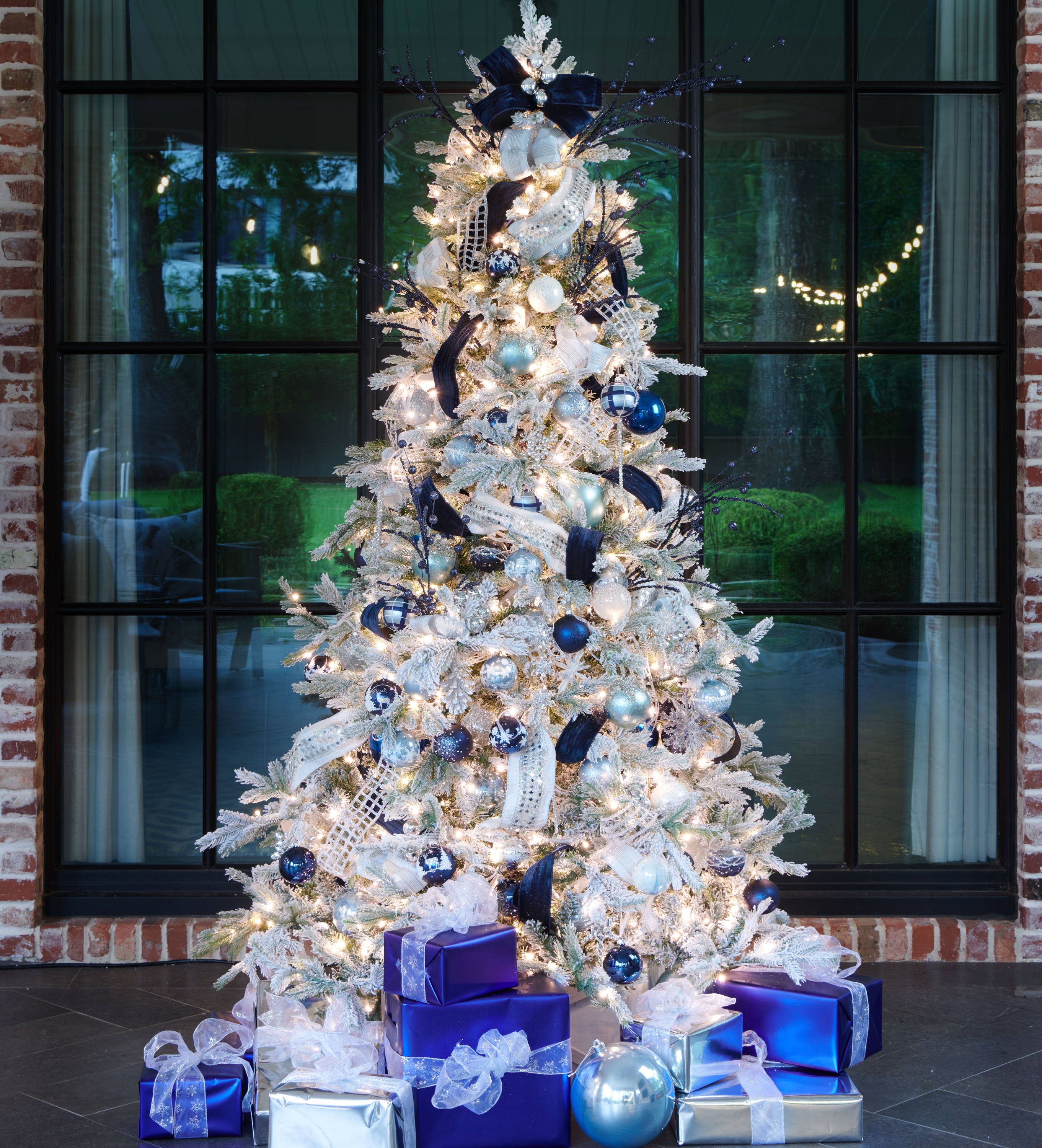 Our Snowfall Christmas Tree was designed using a 7.5-foot tree with a full shape. The recipe was written with those dimensions in mind. If you're working with a larger or smaller tree, see our Christmas Tree Decorating Guide section below.
1 - Silver Wire Star

2 - Rolls of Silver Knitted Wired Ribbon

2 - Rolls of Silver Mirror Trim Wired Ribbon

2 - Rolls of Silver Stripe Wired Ribbon

2 - Rolls of Midnight Blue Ribbon

2 - Rolls of Navy Blue Velvet Ribbon

6 - Navy Berry Stems

3 - Set of 3 Jewel Snowflake Ornaments

3 - Set of 3 Crystal Snowflake Ornaments

2 - Set of 2 Snowflake Drop Ornaments

2 - Set of 3 Silver Icicle Ornaments

3 - Set of 3 Silver and Clear Snowflake Ornaments

2 - Set of 2 Acrylic Glitter Snowflake Ornaments

2 - Set of 2 Silver and White Pinecone Ornaments

3 - Set of 3 Turquoise Snowflake Ornaments

3 - Set of 3 Star Snowflake Ornaments

3 - Set of 6 Night Blue Matte Ball Ornaments

3 - Set of 6 Misty Blue Ball Ornaments

3 - Set of 6 Blue Enamel Ball Ornaments

3 - Set of 6 Light Blue Ball Ornaments

3 - Set of 2 White Pearl Snowflake Ball Ornaments

3 - Silver Poinsettia Ball Ornaments
Helpful Hack: Bring this recipe in-store to have one of our associates locate the items for you. Click here to find your closest showroom.
Christmas Tree Decorating Guide
Everyone's decorating style is different, but here are a few recommendations we have for bringing our Snowfall look into your unique space once you've found your perfect Christmas tree.
20 ornaments per foot of tree
100 lights per foot of tree
Recent Posts
.breadcrumbs, .page-heading {display:none;} Adding Outdoor Lighting to Your Space

.breadcrumbs, .page-heading {display:none;} What Makes Our Christmas Trees Better